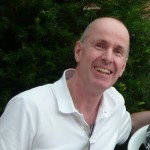 Short introduction…..
My name is Adheesh Burgdorffer and since 1994 I am practicing acupuncture in Amsterdam.
After my education in Naturopathy (including anatomy, physiology, pathology, herbal medicine , homeopathy and health food therapy; graduation 1981) I followed an acupuncture education. After my graduation (1984) acupuncture soon became my main treatment method. It is a beautiful profession in which you need to use you head, your heart and your hands to help others.
After practicing for about 10 years in traditional Chinese style (TCM), I since 1995 specialized in Japanese styles, especially Toyohari. Japanese styles are characterized by their subtle, (almost) painless techniques, that are often very effective, especially with stress related complaints. Lately I use in some situations also dry needling, Tung style acupuncture and light acupuncture.
My unusual first name I have been given by my spiritual teacher in India. In India I have learned to meditate, something which is still an important part of my life.

I am a member of the Dutch Association for Acupuncture (NVA), which is the largest professional organization for acupuncturists in Holland, and of the Dutch Toyohari Association ( NTV), a study association for Japanese acupuncture. You will find me and my profile also on LinkedIn.